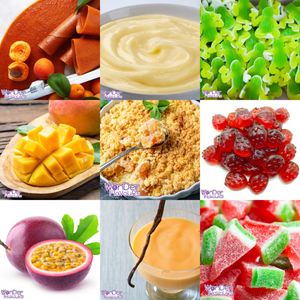 Flavour Packs are a great way to get started with flavouring your recipes. Each pack includes ten 1oz bottles in either a candy, dessert, or fruit variety. Use our flavours for baking. Brew your own beer? Our flavours work for that too. From ice cream making to crafting candy, our flavours will give you a uniquely enjoyable taste every time.

Candy Flavour Pack: Apple Gummy Candy, Blueberry Gummy Candy, Cola Gummy Candy, Frog Gummy Candy (Peach), Gushy Fruit Candy, Margarita Candy, Strawberry Gummy Candy, Tropical Gummy Candy, Watermelon Candy (Extra Sour), Wild Gummy Candy.

Dessert Flavour Pack: Angel Cake, Bavarian Cream, Caramel (Salted), Chocolate Frosting, Coconut Custard, Cookie Dough, Crumble Topping, French Vanilla Thick, Vanilla Custard, and White Fudge.

Fruit Flavour Pack: Amardeen (Apricot), Boysenberry Raspberry, Island Mango, Mora (Blackberry), Passionfruit, Ripe Pear, Strawberry (Juicy), Tangerine, Thai Apple, and Watermelon (Yellow).


Product Characteristics
✔ WATER SOLUBLE
✔ PG BASED
✔ SUPER CONCENTRATED FLAVOURING
Dilute Before Use (Approx. Usages)
BAKING (MUFFINS): 0.12 - 0.24ml per 12 muffins
BEVERAGES (BEER, SELTZER, ETC): 0.1 - 0.3% by weight 
DIY LIQUIDS (PG/VG BASE): 1 - 4% by weight
ICE CREAM: 0.1 - 0.3% by weight 

Ingredients
VIEW INDIVIDUAL PRODUCT PAGES FOR INGREDIENTS.