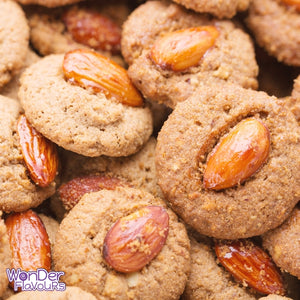 Isn't it just perfect when two ingredients complement each other so well? If you want a yummy combination of nutty and creamy with a smooth cookie flavour, our almond cookie super concentrated flavouring will make you sing for joy.
You'll fall in love with this versatile combination of unique, fragrant, and delightful flavours. Use it as it is or make it even tastier by mixing in other nutty or creamy flavours.
If you want this all-around delicious flavour in your collection, click add to cart now!
Flavour Uses
CANDY MAKING, ICE CREAM, DESSERTS, WHIPPED CREAM, COFFEE, TEA, WATER, COCKTAILS, BEER, SODA, DIY LIQUIDS, ETC
Product Characteristics
✔ WATER SOLUBLE
✔ PG BASED
✔ SUPER CONCENTRATED FLAVOURING
Dilute Before Use (Approx. Usages)
BAKING (MUFFINS): 0.12 - 0.24ml per 12 muffins
BEVERAGES (BEER, SELTZER, ETC): 0.1 - 0.3% by weight 
DIY LIQUIDS (PG/VG BASE): 1 - 4% by weight
ICE CREAM: 0.1 - 0.3% by weight 

Ingredients
PROPYLENE GLYCOL, NATURAL AND ARTIFICIAL FLAVOURING, WATER, SUCRALOSE.
---