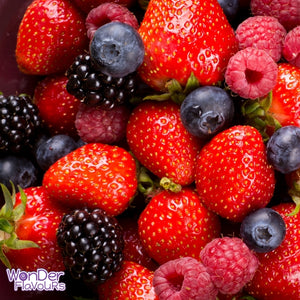 What's bumbleberry, you ask? You might think that it's a weird kind of fruit, but bumbleberry is a variety of fruits from the berry family — wild blueberries, raspberries, strawberries, and blackberries!
Berry lovers will adore this super concentrated flavouring! You might think that you'll be overwhelmed with the tartness and sweetness, but this concentrated flavouring is balanced and absolutely delicious.
Try out this berry-tastic delight by clicking the add to cart button now!
Flavour Uses
CANDY MAKING, ICE CREAM, DESSERTS, WHIPPED CREAM, COFFEE, TEA, WATER, COCKTAILS, BEER, SODA, DIY LIQUIDS, ETC
Product Characteristics
✔ WATER SOLUBLE
✔ PG BASED
✔ SUPER CONCENTRATED FLAVOURING
Dilute Before Use (Approx. Usages)
BAKING (MUFFINS): 0.12 - 0.24ml per 12 muffins
BEVERAGES (BEER, SELTZER, ETC): 0.1 - 0.3% by weight 
DIY LIQUIDS (PG/VG BASE): 0.5 - 2% by weight
ICE CREAM: 0.1 - 0.3% by weight 

Ingredients
PROPYLENE GLYCOL, NATURAL AND ARTIFICIAL FLAVOURING. CONTAINS ACETOIN AND ACETYL PROPIONYL.