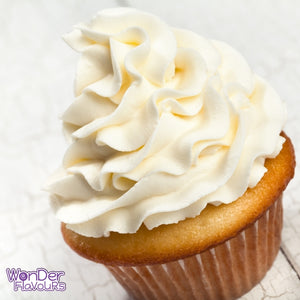 The classic pairing of buttercream frosting and a fluffy cupcake is beloved by many — we know you love it, too! While there are many types of buttercream frosting, nothing can ever beat the traditional recipe.
Authentic creamy goodness with a little vanilla afternote, our super concentrated buttercream frosting flavouring is a best seller and will give you a deeper appreciation for something as common as buttercream frosting.
Don't feel guilty about indulging yourself with this delectable treat — click the add to cart button now!
Flavour Uses
CANDY MAKING, ICE CREAM, DESSERTS, WHIPPED CREAM, COFFEE, TEA, WATER, COCKTAILS, BEER, SODA, DIY LIQUIDS, ETC
Product Characteristics
✔ WATER SOLUBLE
✔ PG BASED
✔ SUPER CONCENTRATED FLAVOURING
Dilute Before Use (Approx. Usages)
BAKING (MUFFINS): 0.12 - 0.24ml per 12 muffins
BEVERAGES (BEER, SELTZER, ETC): 0.1 - 0.3% by weight 
DIY LIQUIDS (PG/VG BASE): 1 - 4% by weight
ICE CREAM: 0.1 - 0.3% by weight 

Ingredients
PROPYLENE GLYCOL, WATER, NATURAL AND ARTIFICIAL FLAVOURING. CONTAINS ACETOIN AND ACETYL PROPIONYL.