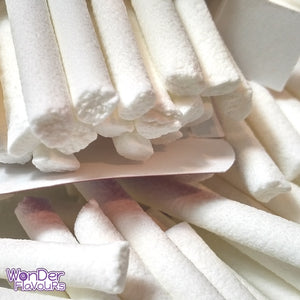 Do you want to taste the creamy sweetness of nostalgia? Then this candy stick candy will do just the trick! You will definitely be transported back to your childhood with our super concentrated candy stick candy flavouring.
This ultimate go-to treat is undeniably a classic delight, and it will make you smile with fondness with every taste. You can never go wrong with something as good as this one!
Click add to cart now bring back fond memories of your childhood!
Flavour Uses
CANDY MAKING, ICE CREAM, DESSERTS, WHIPPED CREAM, COFFEE, TEA, WATER, COCKTAILS, BEER, SODA, DIY LIQUIDS, ETC
Product Characteristics
✔ WATER SOLUBLE
✔ PG BASED
✔ SUPER CONCENTRATED FLAVOURING
Dilute Before Use (Approx. Usages)
BAKING (MUFFINS): 0.12 - 0.24ml per 12 muffins
BEVERAGES (BEER, SELTZER, ETC): 0.1 - 0.3% by weight 
DIY LIQUIDS (PG/VG BASE): 1 - 4% by weight
ICE CREAM: 0.1 - 0.3% by weight 

Ingredients
PROPYLENE GLYCOL, WATER, NATURAL AND ARTIFICIAL FLAVOURING, CITRIC ACID.