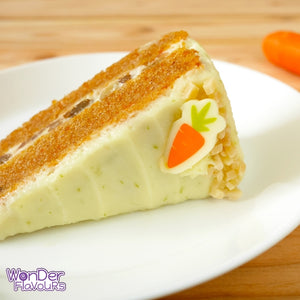 You can never go wrong with a frosted carrot cake. With a subtle hint of carrots embraced with the goodness of a creamy cake flavouring is worth the treat.
Great on its own or incorporated into a cheesecake mix, our carrot cake super concentrated flavouring is oh-so yummy! Just like the real thing, this flavouring will make you think of the moist, sweet cake on your first try.
No regrets with this classic flavour, so add one to your cart now!
Flavour Uses
CANDY MAKING, ICE CREAM, DESSERTS, WHIPPED CREAM, COFFEE, TEA, WATER, COCKTAILS, BEER, SODA, DIY LIQUIDS, ETC
Product Characteristics
✔ WATER SOLUBLE
✔ PG BASED
✔ SUPER CONCENTRATED FLAVOURING
Dilute Before Use (Approx. Usages)
BAKING (MUFFINS): 0.12 - 0.24ml per 12 muffins
BEVERAGES (BEER, SELTZER, ETC): 0.1 - 0.3% by weight 
DIY LIQUIDS (PG/VG BASE): 1 - 4% by weight
ICE CREAM: 0.1 - 0.3% by weight 

Ingredients
PROPYLENE GLYCOL, NATURAL AND ARTIFICIAL FLAVOURING. CONTAINS ACETOIN AND ACETYL PROPIONYL.