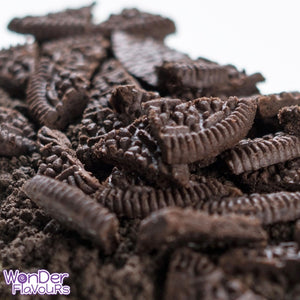 You know those cookies with cream sandwiched between two crunchy chocolate cookies? They're craved by children and adults alike. Our chocolate cookie crust tastes just like the chocolate cookies without the cream, allowing you to choose your own cream filling!
You'll love the versatility of this flavour, make sure you add it to your cart!
Flavour Uses
CANDY MAKING, ICE CREAM, DESSERTS, WHIPPED CREAM, COFFEE, TEA, WATER, COCKTAILS, BEER, SODA, DIY LIQUIDS, ETC
Product Characteristics
✔ WATER SOLUBLE
✔ PG BASED
✔ SUPER CONCENTRATED FLAVOURING
Dilute Before Use (Approx. Usages)
BAKING (MUFFINS): 0.12 - 0.24ml per 12 muffins
BEVERAGES (BEER, SELTZER, ETC): 0.1 - 0.3% by weight 
DIY LIQUIDS (PG/VG BASE): 1 - 4% by weight
ICE CREAM: 0.1 - 0.3% by weight 

Ingredients
PROPYLENE GLYCOL, NATURAL AND ARTIFICIAL FLAVOURING. CONTAINS ACETOIN AND ACETYL PROPIONYL.