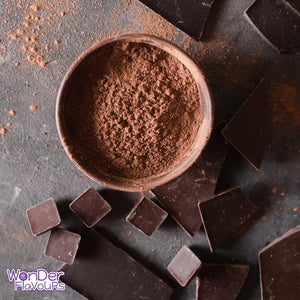 Stepping back from traditional chocolate flavours, this cocoa concentrate will allow you to better fine tune your mix.
Enjoy the taste of authentic cocoa with this amazing flavouring! This flavour is quite versatile in a lot of desserts – since cocoa is one of the main ingredients for chocolate, it's best used in combination with a chocolate flavour or as a background note in desserts!
Be sure to check out our other flavours as well as add this to your cart!
Flavour Uses
CANDY MAKING, ICE CREAM, DESSERTS, WHIPPED CREAM, COFFEE, TEA, WATER, COCKTAILS, BEER, SODA, DIY LIQUIDS, ETC
Product Characteristics
✔ WATER SOLUBLE
✔ PG BASED
✔ SUPER CONCENTRATED FLAVOURING
Dilute Before Use (Approx. Usages)
BAKING (MUFFINS): 0.12 - 0.24ml per 12 muffins
BEVERAGES (BEER, SELTZER, ETC): 0.1 - 0.3% by weight 
DIY LIQUIDS (PG/VG BASE): 0.5 - 2% by weight
ICE CREAM: 0.1 - 0.3% by weight 

Ingredients
PROPYLENE GLYCOL, NATURAL AND ARTIFICIAL FLAVOURING. CONTAINS ACETOIN AND ACETYL PROPIONYL.