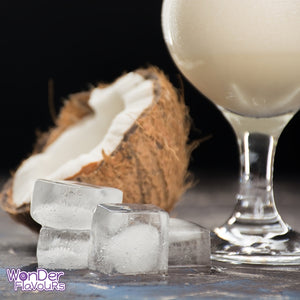 Nothing spells tropical paradise than having a sip of coconut milk mixed with one of the most classy and elegant rums there is in any tropical island! This flavouring will definitely give you that incredibly rich and vibrant taste of the tropics while giving you a good kick of that smooth coconut creaminess with a slight sweet kick of rum and sugar!
Add to cart to enjoy this flavour in your drink, fruit, and dessert mixes!
Flavour Uses
CANDY MAKING, ICE CREAM, DESSERTS, WHIPPED CREAM, COFFEE, TEA, WATER, COCKTAILS, BEER, SODA, DIY LIQUIDS, ETC
Product Characteristics
✔ WATER SOLUBLE
✔ PG BASED
✔ SUPER CONCENTRATED FLAVOURING
Dilute Before Use (Approx. Usages)
BAKING (MUFFINS): 0.12 - 0.24ml per 12 muffins
BEVERAGES (BEER, SELTZER, ETC): 0.1 - 0.3% by weight 
DIY LIQUIDS (PG/VG BASE): 1 - 4% by weight
ICE CREAM: 0.1 - 0.3% by weight 

Ingredients
PROPYLENE GLYCOL, GLYCERINE, NATURAL AND ARTIFICIAL FLAVOURING. CONTAINS ACETYL PROPIONYL.