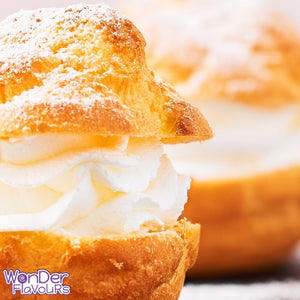 Cream puffs have to be one of the most delicious and incredibly elegant desserts that will ever touch your tongue! Get yourself a good taste of french desserts at the tip of your fingertips with this amazing flavouring!
This cream puff flavour has a light and fluffy choux pastry taste and a creamy and slightly sweet milky filling. This profile goes well with pastries, cakes, ice creams, and other desserts!
Sound appealing? Don't forget to add it to cart!
Flavour Uses
CANDY MAKING, ICE CREAM, DESSERTS, WHIPPED CREAM, COFFEE, TEA, WATER, COCKTAILS, BEER, SODA, DIY LIQUIDS, ETC
Product Characteristics
✔ WATER SOLUBLE
✔ PG BASED
✔ SUPER CONCENTRATED FLAVOURING
Dilute Before Use (Approx. Usages)
BAKING (MUFFINS): 0.12 - 0.24ml per 12 muffins
BEVERAGES (BEER, SELTZER, ETC): 0.1 - 0.3% by weight 
DIY LIQUIDS (PG/VG BASE): 1 - 4% by weight
ICE CREAM: 0.1 - 0.3% by weight 

Ingredients
PROPYLENE GLYCOL, NATURAL AND ARTIFICIAL FLAVOURING. CONTAINS ACETOIN AND ACETYL PROPIONYL.