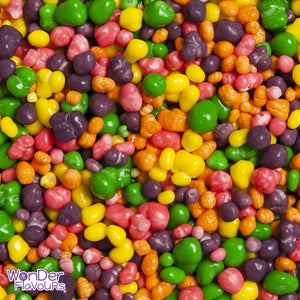 The classic sweet and slightly tart, fruity rock candy from your childhood! Surprisingly versatile, it mixes well with most fruit and candy; can even be used as a sprinkles type flavour with desserts.
Make sure to add Dweeb Candy to cart.
Flavour Uses
CANDY MAKING, ICE CREAM, DESSERTS, WHIPPED CREAM, COFFEE, TEA, WATER, COCKTAILS, BEER, SODA, DIY LIQUIDS, ETC
Product Characteristics
✔ WATER SOLUBLE
✔ PG BASED
✔ SUPER CONCENTRATED FLAVOURING
Dilute Before Use (Approx. Usages)
BAKING (MUFFINS): 0.12 - 0.24ml per 12 muffins
BEVERAGES (BEER, SELTZER, ETC): 0.1 - 0.3% by weight 
DIY LIQUIDS (PG/VG BASE): 1 - 4% by weight
ICE CREAM: 0.1 - 0.3% by weight 

Ingredients
PROPYLENE GLYCOL, NATURAL AND ARTIFICIAL FLAVOURING, WATER. CONTAINS ACETOIN AND ACETYL PROPIONYL.