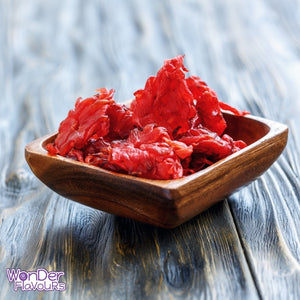 Hibiscus is known to be one of the most sweet-smelling flowers there is, it's used to create tea as well as rich and delightful candy! Satisfy your candy cravings, try our hibiscus candy flavour!
Flavour Uses
CANDY MAKING, ICE CREAM, DESSERTS, WHIPPED CREAM, COFFEE, TEA, WATER, COCKTAILS, BEER, SODA, DIY LIQUIDS, ETC
Product Characteristics
✔ WATER SOLUBLE
✔ PG BASED
✔ SUPER CONCENTRATED FLAVOURING
Dilute Before Use (Approx. Usages)
BAKING (MUFFINS): 0.12 - 0.24ml per 12 muffins
BEVERAGES (BEER, SELTZER, ETC): 0.1 - 0.3% by weight 
DIY LIQUIDS (PG/VG BASE): 1 - 4% by weight
ICE CREAM: 0.1 - 0.3% by weight 

Ingredients
PROPYLENE GLYCOL, NATURAL AND ARTIFICIAL FLAVOURING. CONTAINS ACETOIN AND ACETYL PROPIONYL.