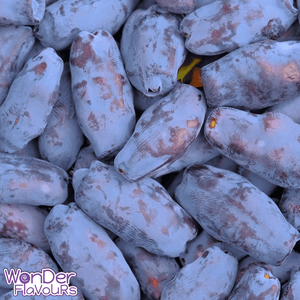 Honeyberry is a delicious fruit flavour that is best described as the combination of the sweet and tart tastes of raspberry, blueberry, and blackcurrant. 
Flavour Uses
CANDY MAKING, ICE CREAM, DESSERTS, WHIPPED CREAM, COFFEE, TEA, WATER, COCKTAILS, BEER, SODA, DIY LIQUIDS, ETC
Product Characteristics
✔ WATER SOLUBLE
✔ PG BASED
✔ SUPER CONCENTRATED FLAVOURING
Dilute Before Use (Approx. Usages)
BAKING (MUFFINS): 0.12 - 0.24ml per 12 muffins
BEVERAGES (BEER, SELTZER, ETC): 0.1 - 0.3% by weight 
DIY LIQUIDS (PG/VG BASE): 1 - 4% by weight
ICE CREAM: 0.1 - 0.3% by weight 

Ingredients
PROPYLENE GLYCOL, NATURAL & ARTIFICIAL FLAVOUR.