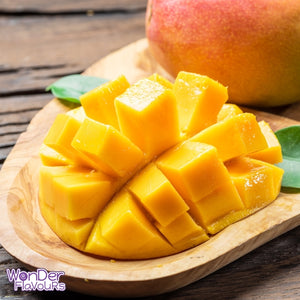 Nothing makes you imagine that you're in a tropical paradise quite like the taste of the sweetest and tangiest mangoes! With this island mango flavour, you'll absolutely have that thick and sweet syrupy tropical flavour that you get from fresh exotic mangoes!
Flavour Uses
CANDY MAKING, ICE CREAM, DESSERTS, WHIPPED CREAM, COFFEE, TEA, WATER, COCKTAILS, BEER, SODA, DIY LIQUIDS, ETC
Product Characteristics
✔ WATER SOLUBLE
✔ VG & PG BASED
✔ SUPER CONCENTRATED FLAVOURING
Dilute Before Use (Approx. Usages)
BAKING (MUFFINS): 0.12 - 0.24ml per 12 muffins
BEVERAGES (BEER, SELTZER, ETC): 0.1 - 0.3% by weight 
DIY LIQUIDS (PG/VG BASE): 1 - 4% by weight
ICE CREAM: 0.1 - 0.3% by weight 

Ingredients
GLYCERINE, PROPYLENE GLYCOL, NATURAL AND ARTIFICIAL FLAVOURING, WATER, SUCRALOSE.