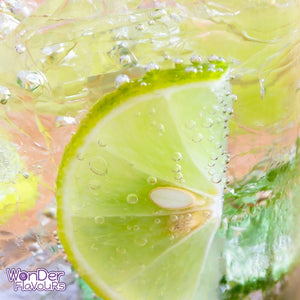 Are you craving that refreshing citrusy soda we all know and love? This lemon lime soda flavour concentrate is exactly what you're looking for!

Whether you're creating a one-of-a-kind mixology menu or flavoring a fun kiddie cake, this super concentrated flavour liquid will lend your creation the right citrus soft drink taste that's both familiar and comforting.
Flavour Uses
CANDY MAKING, ICE CREAM, DESSERTS, WHIPPED CREAM, COFFEE, TEA, WATER, COCKTAILS, BEER, SODA, DIY LIQUIDS, ETC
Product Characteristics
✔ WATER SOLUBLE
✔ PG BASED
✔ SUPER CONCENTRATED FLAVOURING
Dilute Before Use (Approx. Usages)
BAKING (MUFFINS): 0.12 - 0.24ml per 12 muffins
BEVERAGES (BEER, SELTZER, ETC): 0.1 - 0.3% by weight 
DIY LIQUIDS (PG/VG BASE): 1 - 4% by weight
ICE CREAM: 0.1 - 0.3% by weight 

Ingredients
PROPYLENE GLYCOL, ALCOHOL, NATURAL AND ARTIFICIAL FLAVOURING.