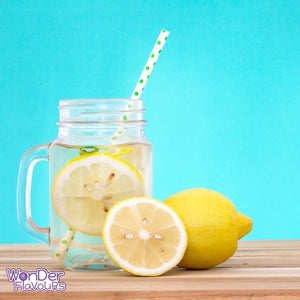 You don't have to squeeze lemons tirelessly to create that refreshing zesty flavour reminiscent of a hot and fun summer! Our super concentrated lemonade flavour will do the trick!
Whether you own a bar and want to create the best hard lemonade drink or have a patisserie that makes unique cakes with deliciously infused flavours, this lemonade flavour concentrate will help you achieve the taste you're aiming for.
Flavour Uses
CANDY MAKING, ICE CREAM, DESSERTS, WHIPPED CREAM, COFFEE, TEA, WATER, COCKTAILS, BEER, SODA, DIY LIQUIDS, ETC
Product Characteristics
✔ WATER SOLUBLE
✔ PG BASED
✔ SUPER CONCENTRATED FLAVOURING
Dilute Before Use (Approx. Usages)
BAKING (MUFFINS): 0.12 - 0.24ml per 12 muffins
BEVERAGES (BEER, SELTZER, ETC): 0.1 - 0.3% by weight 
DIY LIQUIDS (PG/VG BASE): 1 - 4% by weight
ICE CREAM: 0.1 - 0.3% by weight 

Ingredients
PROPYLENE GLYCOL, ALCOHOL, NATURAL AND ARTIFICIAL FLAVOURING.